Gutter Replacement Services in Fairfax
Rain gutters are essential in protecting your home from water damage. If they're faulty or clogged, they risk damaging parts of your home. Faulty gutters can cause severe water damage to your roof, which results in the need to repair or replace the roof. Clogged gutters, on the other hand, can cause rainwater to accumulate, which will lead to roof leaks or rust buildup.
Why are gutters so important?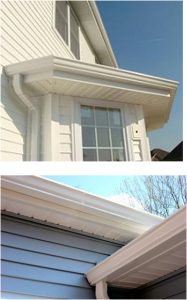 Gutters are used to direct water from your roof. Water left standing on your roof can lead to leaks into your home's interior and structural damage. Gutters help keep water away from basements, walks and patios and deter mud, sand and water from splashing onto your siding, windows and doors.
This helps to keep the exterior of your home clean. By protecting your home from water they also protect the color from fading. If your home has brick or concrete, this is a very important aspect. You can also count on gutters to protect wood decks, doors and garage doors from excessive water damage.
Having a working gutter system installed will help you to prolong the life and structure of your home by keeping water and other damaging properties away from areas that they may harm.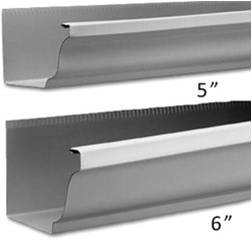 Rain gutters come in a variety of colors and are usually either 5″ or 6″ in size, depending on how much water flow they are expected to handle.
They are an important part of your home's water drainage system as they direct all the water that flows off of the roof away from the foundation of your home.
In addition on properly installed seamless gutters, it is imperative that homes surrounded by any trees also have some form of leaf guard to prevent the gutters and downspouts from getting clogged.
Maintenance-Free Gutter Cover & Screen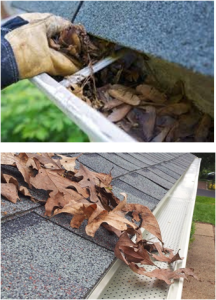 The frustration of cleaning gutters is nothing new to homeowners. Even when you don't have a lot of trees growing close to your home, leaves still find their way into your gutters. Say goodbye once and for all to cleaning leaves, small twigs, acorns, pine needles, and other debris from your gutters.
Gutter protection systems such as gutter cover, guard, and screen will keep your gutters clear of debris allowing water flow freely through the gutter trough downspout and safely away from your home. Leaves and debris can clog your gutters and downspouts.
Should this happen the water could fill up the gutter and spill over the front and pool around your foundation, causing damage to your landscaping and home, including mold and peeling paint.
Why consider a gutter protection system?
There are a number of reasons to consider a gutter protection system. The most important is the safety of your loved ones. Each year, over 175 thousand people fall from ladders and around 350 of those falls are fatal. Often times those falls occur while someone is on a ladder cleaning debris from a gutter.
And as we mentioned before, clogged gutters can cause thousands of dollars in damages to your home from rotting fascia boards, landscape erosion and foundation repair, not to mention the convenience of not having to clean your gutters, giving you extra free time to do the things you like to do.
And finally, a quality gutter protection system can add value to your home, making your home more desirable when it comes time to sell.
Various Types of Gutter Protection Systems
Gutters are generally attached to the home in one of three ways: straps, hangers or spikes and ferrules. Your gutters should have a 1/4" slope for every 10 feet of gutter run so they drain properly. Unless you are building a new home, your gutters are already in place but it is important to consider a company, likeSTB Remodeling, that can identify any problems with your existing gutters such as lack of proper slope, gutters that are not securely fastened to the fascia board or miters (corners) and end caps that are not properly sealed. Otherwise, some gutter protection systems may not work properly. Gutters without any type of gutter protection should be cleaned at least twice a year, especially if there are a lot of trees growing near your home.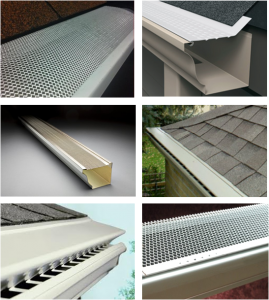 There are probably more types of gutter protection systems than types of gutters! As is the case with anything, there are good and bad points to each. First, to determine which one is right for your home, there are a number of things to consider: the types of trees around your home, the type and slope of your roof, the strength and performance of the gutter system, etc. Other factors such as the reputation of the manufacturer, the quality and reliability of the product's performance, the product's warranty and whether the product has been independently tested and endorsed should be also considered.
Contact us at 703-849-0894; we are more than happy to assist you in the decision making process regarding gutter protection systems.
Getting Started is Easy
| | |
| --- | --- |
|   | Contact us at 301-919-7607 or fill out the easy form to the rightto schedule your complimentary gutter inspection and a free estimate. |
|   | Have one of our roof experts visit you at home at a time that is convenient to you in order to discuss your home gutter inspection and gutter protection system installation. |
|   | Enjoy your day while our professionals complete improvement to your home in a timely, quality, and professional manner. |
We, at STB Remodeling, offer you:
Free Home Improvement Consultation
The Most Competitive Price
Top Quality Home Improvement Products and Services
A Convenient, Comfortable, Stress-Free Experience
Honesty, Integrity, Commitment, and Reliability
Our Guarantee
STB Remodeling guarantees excellence in quality gutter replacement/installation service. Our excellent products, professional staff, and high quality workmanship ensure customer satisfaction. Because making our customers happy is our number one priority, if you have any questions and/or services needed even after completion of your home improvement, we will provide all the necessary services to your satisfaction.
If you experience problems in your gutter and believe that it requires replacement, don't hesitate to get in touch with STB Remodeling. Our professional gutter specialists commit to providing quality gutter replacement services in Fairfax. Moreover, we aim to install a maintenance-free gutter system to take away the frustration of cleaning gutters.
Give us a call at 703-849-0894 for a free home estimate.