Siding Replacement Services in Fairfax
A good siding enhances a home's exterior and acts as a shield to damaging weather conditions like rain or snow. When a storm hits, the siding serves as the house's first line of defense. Thus, it's no surprise that siding may become dilapidated after a severe natural calamity.
If you find that your siding is beyond repair, it's crucial that you have it replaced as soon as possible. Immediate siding replacement prevents water from seeping in and damaging the interior walls of your home.
Siding adds Value to your Home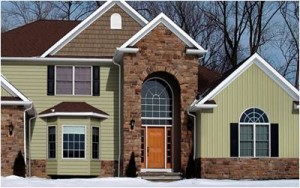 Replacing your existing siding or installing it brand new adds value to your home, from any perspective: flawless appearance adding new life and beauty, unsurpassed insulation, and true maintenance freedom, all of which will increase the value of your home. Siding installation is among the top ten remodeling projects in terms of overall payback. Thus, make the right choice and save money. The right choice starts with the right company.
Protect your Home from Energy Loss
When you carefully consider what makes a home energy efficient, it is important to a take a closer look at the structural components where energy escapes. A major source of energy loss through walls is "thermal bridging," which is the conduction of heat through the wood studs and other framing elements not covered with insulation. Thermal bridging can be responsible for substantial heat loss in a home, and it also creates cooler interior wall areas that can lead to condensation of moisture and mold problems. Our siding products are an excellent defense against thermal bridging. Thus, siding installation can help pay for itself in energy savings and increased home value.

The "Must-Haves" in Siding Systems
High-Performance insulation and reduced energy costs
Long-lasting beauty
Maintenance freedom
Resistance to denting, scratching, and everyday abuse
Resistance to extremes of wind and weather
JAMES HARDIE SIDING
STB Remodeling specializes in installing James Hardie Fiber Cement Siding and Trim products. James Hardie Siding and Trim deliver uncompromising durability and finish quality for a beautiful, lower maintenance exterior. James Hardie provides protection form the elements: it stands up to storms and harsh weather, it protects against swelling, warping, and cracking, it resists mold damage, it won't be eaten by animals or insects, it is fire resistant, it helps reduce time and money spent on maintenance, and most importantly, it provides peace of mind. As a result, James Hardie has been installed on over 5.5 million homes from coast to coast, and many of the new homes are installed with James Hardie Siding and Trim. James Hardie has been proven year after year by Remodeling Magazine to be the #1 return on investment
For more detailed information on James Haride Siding and Trim products, please, browse the James Hardie® Mini Website below.
http://contractorkit.jameshardie.com/
Two Tips that make Siding Color Selection Easy
If you like your home's existing color scheme, there is really no decision to make. But if you are looking for a change, use the following two suggestions to guide your planning:
First, use the color of your roof shingles as a starting point. For the most pleasing appearance, colors for shingles and siding should complement each other.
Secondly, decide if you want a little or a lot of contrast between siding and trim. As a general rule, less contrast unifies a home's architectural elements, while great contrast emphasized individual elements.
Visualize your Home's Siding Color
Want a great way to view siding, accent, and trim color combination? Design Showcase is an interactive color visualization tool that makes choosing siding, accent, and trim colors easy, effective, and exciting… all with just a click of the mouse. Click the house in the Design Showcase below to start.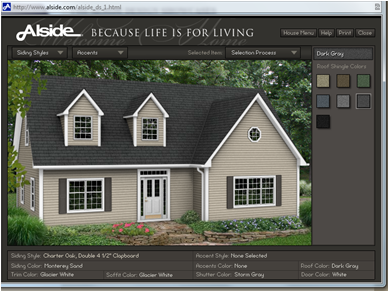 Getting Started is Easy
| | |
| --- | --- |
| | Contact us at 301-919-7607 or fill out the easy form to the right to schedule a free no obligation in-home consultation. |
| | Have one of our consultant visit you at home at a time that is convenient to you in order to discuss your home siding installation needs. |
| | Enjoy your day while our professionals complete improvement to your home in a timely, quality, and professional manner. |
Our Guarantee
STB Remodeling guarantees excellence in quality siding replacement/installation service. Our excellent products, professional staff, and high quality workmanship ensure customer satisfaction. Because making our customers happy is our number one priority, if you have any questions and/or services needed even after completion of your home improvement, we will provide all the necessary services to your satisfaction.
When you need a reliable siding contractor to perform siding replacement services in Fairfax, trust STB remodeling. Our siding specialists will replace your old siding with a James Hardie Fiber Cement Siding and Trim product. We chose this product as it resists mold damage, provides a good barrier against the elements, and offers uncompromising durability.
Dial 703-849-0894 to get a free estimate.