Roofing Replacement in Fairfax
A quality roof is necessary to provide optimal protection for you and your family. If you have a roof that's old, outdated, or damaged, replace it with an excellent roofing system. Doing so adds stability and strength to your home and increases its curb appeal.
The roof is your home's first line of protection against the weather, and it should be absolutely certain that the materials and installation methods used are the best and safest available. Residential roofing materials and installation technology have improved dramatically over the past decade, a roof ridge vent, for example watch the video below for more information. The flow of fresh air across roof shingles draws hot, moist attic air out through a ridge vent and pulls fresh air into the attic through soffit vents. This roof ventilation is important because it allows air to circulate in the attic so there's a balance of air intake and exhaust.
This movement of air reduces cooling costs and eliminates potential damage to the roof shingles. Thus, most new homes are built with a continuous ridge vent along the peak of the roof for this purpose. Despite the many new materials and technologies available for roofing installation, one thing still remains the same; the quality of the roofing installation service/workmanship will determine the overall job quality.
Get It Installed by the Experts
Recognizing the critical nature of a home's roof, we use CertainTeed shingles. CertainTeed has been a leading building materials manufacturer for well over a century and offers one of the best warranties available from any company producing asphalt shingles. Because proper application is a crucial part of the life expectancy of a roof, CertainTeed reserves its highest credentials for companies who have proven capable of meeting or exceeding a series of exacting qualifications. We are quite proud to have been awarded the difficult-to-obtain "Master Shingle Applicator" certification by CertainTeed. This means that you can be sure that our expert installers will do the job right and in a most professional manner.
Better Safe than Sorry
If you suspect that you have problems with your roof, or if you see any of the warning signals, call us at 703-849-0894 or fill out the easy form to the right to schedule your complimentary roof inspection and a free estimate, if any problems are found.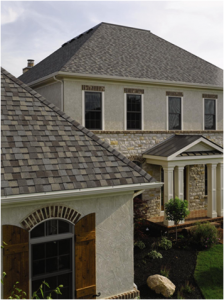 Warning Signals from the Outside:
Shingles that are warped, blistered, missing or torn
Shingles covered in moss or algae, which hold moisture and encourage rot
Cracked tiles
Gapping shakes
Warped, split or thinning wood shakes
Sagging roof line
Dark, dirty-looking areas
Etc.
Warning Signals from the Inside:
Dark water stains in rafters or insulation
Ceiling spots or leaks
Stains on interior walls
Higher than normal energy costs
Etc.
If there is a problem with your roof, it is better to be safe than sorry in that catching and fixing the problems early can literally save you thousands of dollars in repair work later on.
Roof Inspection
Our experts give the most comprehensive roof inspection available. Your roof is not just on the outside, it actually starts above your ceiling. Thus, we inspect:
Roofing materials (e.g., shingles, tile, shake, etc) for deterioration, missing, and/or torn
Underlayment which keeps water that gets past the shingles
Roof deck for soft spots which indicate wood rot
Roof valleys
Flashing which keeps water from entering your home at the corners and edges
Chimney and cap for leak-causing cracks
Gutters and downspouts for proper drainage
House foundation
Roof deck from the attic
Insulation
Ventilation
Temperature
Walls
Ceilings
This thorough inspection will give you peace of mind in knowing the full condition of your home – both the problem area(s) and the area(s) to repair/replace. In addition, this thorough inspection is free with no obligation. Call us at 301-919-7607 for more information.
Visualize your Home with ColorView
ColorView by CertainTeed helps you visualize your home by allowing you to create and mix-and-match products and colors. Click on the house in the picture below to start.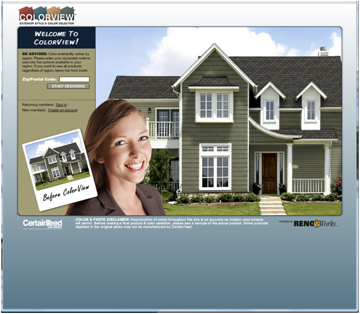 Getting Started is Easy
| | |
| --- | --- |
|   | Contact us at 301-919-7607 or fill out the easy form to the right to schedule your complimentary roof inspection and a free estimate, if any problems are found. |
|   | Have one of our roof experts visit you at home at a time that is convenient to you in order to discuss your home roof inspection and/or roof repair/replacement needs. |
|   | Enjoy your day while our professionals complete improvement to your home in a timely, quality, and professional manner. |
We, at STB Remodeling, offer you:
Free Home Improvement Consultation
The Most Competitive Price
Top Quality Home Improvement Products and Services
A Convenient, Comfortable, Stress-Free Experience
Honesty, Integrity, Commitment, and Reliability.
Our Guarantee
STB Remodeling guarantees excellence in quality roof replacement/installation service. Our excellent products, professional staff, and high quality workmanship ensure customer satisfaction. Because making our customers happy is our number one priority, if you have any questions and/or services needed even after completion of your home improvement, we will provide all the necessary services to your satisfaction.
When you need a roofing service company in Fairfax that performs high-quality professional roofing replacement, choose STB Remodeling. You can count on our roofing contractors to select the ideal roof that complements your home's design. We will use reliable materials to give you a roof that shields your home from elements, such as rain, snow, heat, and wind. Our roofing replacement will surely keep you and your family protected for many years.
Contact us today at 703-849-0894 to schedule a free estimate.